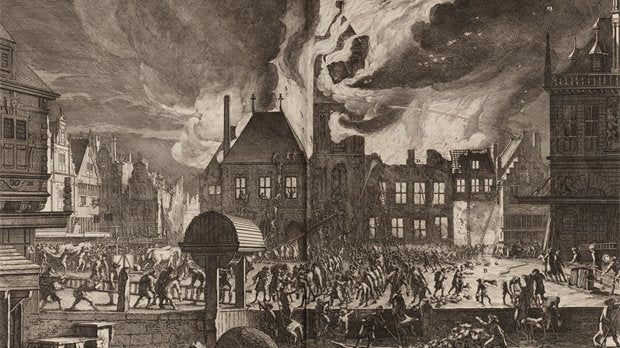 Jan van de Heyden was the inventor of the fire hose. As a fire master, he used the sprayer in practice for years. He wrote a book about his invention, which he provided with illustrations himself. This page shows the extinguishing of the fire in the old town hall on Dam Square in 1652.
fire hose
In 1672 Jan van der Heyden made the first fire hose in his workshop on the Koestraat together with his brother Nicolaas. That would radically change the method of fire extinguishing. For years he experimented with different pumps and syringes. In 1677 he patented a fire hose that could provide continuous water.
fire spray book
In his Description of the newly invented and patented hose fire sprayers and their method of fire-extinguishing from 1690 Jan van der Heyden gives a detailed description of the new fire hose. He also writes about the major fires that hit Amsterdam during his work with the fire brigade. He made illustrations for many of those fires.
extinguishing
On the night of July 7, 1652, the old Amsterdam city hall went up in flames. Jan van der Heyden shows here the old-fashioned way in which the fire was fought in addition to his new way of extinguishing. To the left people walk with buckets; the pumps are malfunctioning. On the right is the situation as it had been with Van der Heyden's fire hose: good organization and a powerful uninterrupted jet of water.
Jan van der Heyden
Jan van der Heyden was a real centipede. He first worked as a mirror and frame maker in a shop on Dam Square. He then became a painter. Finally, he turned to technology. For example, Van der Heyden invented a new model of street lamp. He was best known for the invention of the new fire hose.
Source: City Archives 020